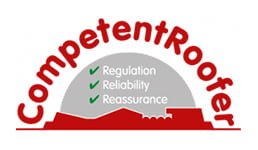 CompetentRoofer is the Government-licenced Competent Person Scheme that allows professional roofing contractors to self-certify that their roofing work complies with Building Regulations within England and Wales.  The scheme encompasses all roofing types for domestic, industrial and commercial properties and is open to all roofing contractors to apply.
By using a registered CompetentRoofer, you can save not only time and money but will have the added reassurance that the work carried out complies with all relevant standards and importantly, that your legal obligations are met.
Competent– CompetentRoofer contractors are fully audited and inspected prior to joining the scheme, and regularly throughout their membership.
Compliant– Registered CompetentRoofer contractors must not only work to the current Building Regulations, they are also audited against the most up to date British Standards.
Certified– CompetentRoofer members are uniquely authorised to self-certify that their work complies with the current Building Regulations.
Covered– A ten year insurance backed guarantee is included with notification of roof refurbishment works up to a value of £50,000 where the building height is four storeys or less (also available for commercial/industrial works).
DOWNLOAD MEMBERSHIP CERTIFICATE
Our full range of roofing services includes:
Flat roofs, slate and tiled roofing
Roof Repairs
New Roof and Replacement Roof (re-roof) Installations
Roof Maintenance
Lead Work
Chimney Repairs
Loft Conversions
PVCu plastics including soffits and fascias